Welcome to What Kids Wore Wednesday! I started WKWW because I love to dress and accessorize my little ones. Because I work in children's fashion, I know I am not alone! This is the place for all of you mommas to share the fun you have dressing your kiddos.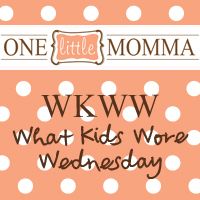 This week's style inspiration from ONE little BELT is perfect to get you thinking about Valentine's Day. Our Valentine's Day neckties are perfect with a nice pair of jeans and button up and obviously should be paired with a belt to pull it all together. You can also dress it up even more with a pair of camel colored corduroys or navy slacks. You can't go wrong!
What did my kids wear this week?
Easton is my new clothes kid. He loves new clothes and it is always fun to shop for him. We'll see how long it lasts, but luckily he still loves everything I pick out. I found this fabulous textured sweater at the Goodwill Outlet this week. It is originally from Target, but still in great shape. And it cost me almost nothing. I LOVE, LOVE, LOVE the pattern and the gnarled look. Not to mention the tan and brown are great colors on this kiddo.

Note the plastic knife in his pocket…guess who's Dad carries a pocket knife everywhere too??? Easton is also always sporting his leather sheath which is perfect for his sword- his favorite accessory.
Kesler joined us for the fun. They were more interested in taking apart my sweater fuzz-buster than posing. And why wouldn't they be? That is boys for you!
Easton- Sweater: Thrifted (Target), Pants: GAP, Shoes: Stride Rite
Kelser- Sweater: H&M, Pants: GAP, Belt: ONE little BELT
Want to link up? Here are some guidelines…

1. link to your specific blog post, not your blog's main page.
2. please only link kids' outfit related posts. no giveaways or unrelated crafts.
3. feel free to link back here to me so that WKWW makes sense to your readers. grab a button from the sidebar (see the code box?).
4. check out as many links as possible! and comment! we all LOVE a comment!